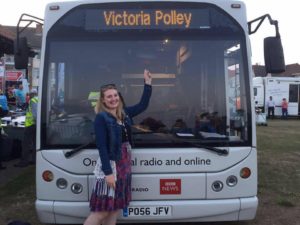 My name is Victoria Polley and I started this blog whilst studying to become a Journalist.
I graduated from the Centre for Journalism, University of Kent with a first class honours in BA Hons Journalism and the News Industry in 2015. During my time there, I was Sports Editor and later Editor of themedwire.co.uk, where some of my work has been published. I've also written blogs for www.footybunker.com and www.centreforjournalism.co.uk as well as contributing to the 'Women in Sport' section for BT Sport and reporting for Gillingham Ladies FC.
In February 2015, I was awarded the ITV News Broadcast Journalism Award by the NCTJ and in 2016, I was invited to attend an NFL as part of the NCTJ's Sports Journalism award.
After graduating, I took up a full time job at BBC Essex, where I had been working throughout my studies. I love my job whether I'm out and about reporting or producing in the studio….but it does mean I don't often have time to update this blog as much!
You can follow me on Twitter @VictoriaPolley, find me on LinkedIn or contact me using the form below. All views on this blog are my own.
.