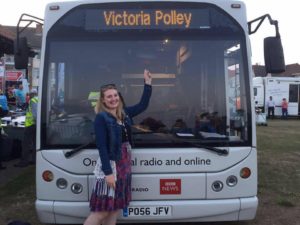 Hello! I'm Victoria and I'm a broadcast journalist.
I work as a radio presenter, producer, reporter and sports commentator for the BBC in Essex.
I graduated from the Centre for Journalism, University of Kent with a first class honours in BA Hons Journalism and the News Industry in 2015. During my time there, I was Sports Editor and later Editor of independent student outlet themedwire.co.uk. I also spent a lot of time blogging, as featured on this site.
I've also had bylines on the BBC Sport website, Sky Sports News, BT Sport and footybunker.com, as well as doing media work with Gillingham FC.In February 2015, I was awarded the ITV News Broadcast Journalism Award by the NCTJ and in 2016, I was invited to attend an NFL as part of the NCTJ's Sports Journalism award.
When I'm not on the air, I can usually be found on the netball court, with my nose in a book or enjoying a glass of prosecco or two with friends.
You can follow me on Twitter @VictoriaPolley, find me on LinkedIn or contact me via this website. All views on this blog are my own.
.