I often write about my favourite books or what I am reading on this blog, and when I heard the sad news about Louise Rennison, I wanted to pay my own tribute to one of the vair, vair best.
It is with huge sadness that we can confirm the death of our much loved author and friend, Louise Rennison.

— HarperCollinsUK (@HarperCollinsUK) February 29, 2016
With every stage of my life, there is a particularly author or set of books I tend to associate with that time. As I was hitting my early teens, I discovered Angus, Thongs and Full frontal Snogging (yes, I mean the book) on my older sister's bookshelf and the favourite author title was well and truly claimed by Louise Rennison.
The 'Confessions of Georgia Nicholson' books are probably the most read on my bookshelf and I used to countdown the days every year until the next book in the series was released. They were funny, fast paced and very relatable.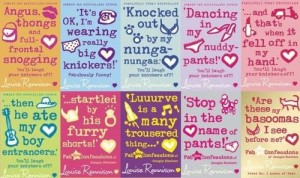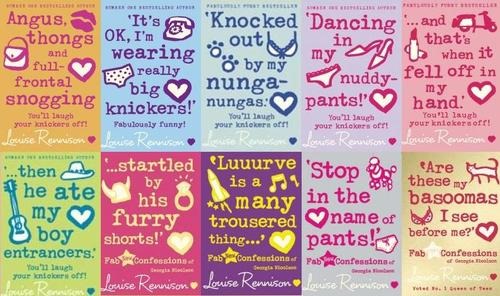 Louise Rennison perfectly captivated the best bits and the struggles of being a teenage girl. Her books could me cringe and then genuinely make me laugh out loud with tears running down my face with just the turn of a page.
There are so many phrases from the Georgia Nicholson books that have stayed with me and I still find myself using them now, even 10 years or so down the line (nippy noodles anyone?). And where do I even begin on those titles….
Louise Rennison said:
I didn't attempt to teach. I didn't attempt to do anything except I wanted Georgia to be a decent person. I wanted her to be someone who is a bit stupid and self-obsessed and difficult and funny and rude, and a bit jealous and all those other things. But I wanted her to have a good heart.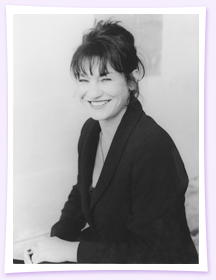 And though she didn't attempt to teach, she did. Louise Rennison taught me, and I'm sure many other girls of my age, that all those quirks and unique traits were completely ok. Being weird is fine and having a good heart is even better. And no matter what was happening in real life, you could always have a laugh in the world of Georgia Nicholson.
I'll always be a part of Louise Rennison's Ace gang and although the news of her death has bought great sadness today, I hope her fabbity- fab books keep bringing laughter to many more generations of young girls to come.