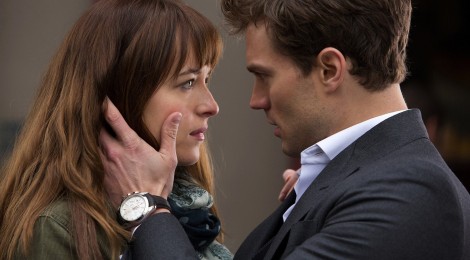 ☆☆☆☆
It is arguably the most eagerly anticipated film of the year and last weekend, Fifty Shades of Grey hit cinemas across the world.
E.L James' trilogy of 'Fifty Shades' books has sold over 100 million copies worldwide and advanced ticket sales rocketed across the UK and beyond with fans curious to see how the adaptation measured up.
The film's director Sam Taylor-Johnson (Nowhere Boy) succeeds in striking a balance between satisfying the appetite of the legions of fans James and her trilogy have won over, and not making a BDSM porn film.
The film's leading actors Dakota Johnson, daughter of Don Johnson and Melanie Griffiths, and Jamie Dornan, who made his name as sexy serial killer Paul Spector in BBC2's The Fall carry the sometimes cringeworthy dialogue. Johnson gives Anastasia equal amounts of vulnerability and defiance while Dornan's Christian Grey is serious yet seductive. Both the leading performances portray multiple sides to the characters which enhance the plot.
Fifty Shades of Grey global trailer
The film strips away Ana's babbling stream of consciousness which is one of the most criticised aspects of the books and simplifies both the dialogue and the sexual content which has been given an artsy feel by cinematographer Seamus McGarvey.
Fans of the series may be disappointed with parts of the story being missed out in the adaptation and the impressive soundtrack, including Ellie Goulding's number 1 hit 'Love me like you do' occasionally overpowers some of the most iconic scenes.
While the ending of Fifty Shades of Grey will not come as a surprise to hardcore fans, the unresolved, abrupt finale should make even the newcomers to this franchise wonder what will happen next.
Tweet us your thoughts on #FiftyShades @CfJGrapevine