I absolutely love reading and I'm always on the look out for new authors and books to try. So as it's coming up to the holiday season, I thought I'd share some of my favorite books I've read already this summer.
Thirteen Weddings by Paige Toon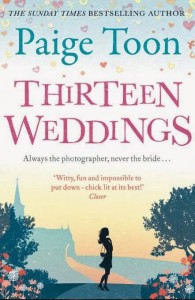 Description: Last year, Bronte left Sydney for a wedding in England, where she met newly single Alex. After a night of passion they parted ways, and Bronte returned to Australia. Now working on a picture desk for a magazine in London, Bronte is about to meet her new colleague, who turns out to be all too familiar. Although awkward at first, as Alex is now engaged to the girl he was on a break from when they met, they soon become friends. But as the two get closer, and the wedding day looms, it is clear that Alex and Bronte have unfinished business…
Verdict: I am a massive fan of Paige Toon's books and this book was no different. I read the sample chapter a few weeks before the book itself was released and I couldn't wait to see what developed between Bronte and Alex. Bronte is easy to relate to and I was intrigued as to why Bronte had such a strong reaction to churches during her time as a part-time wedding photographer and I thought this was dealt with brilliantly. The detail used to describe Bronte's job capturing those all important wedding photos is incredible and there's so much thought into each different wedding. Bronte endures a dilemma over her feelings for Alex and new guy, Lachie and we're kept guessing right until the very end as to who she chooses. There's handsome Alex who Bronte has had feelings for since that fateful night and then there's kind, caring and cheeky Lachie…never mind Bronte, I was spoilt for choice too! I definitely wanted more from Bronte's story as I wasn't ready for it to end so I hope we will see her pop up again either in a sequel or featuring in another book. If you haven't read any of Paige's previous books, I would definitely recommend them as you will almost certainly find a connection between them and they're all as brilliant as this one.
You're the one that I want by Giovanna Fletcher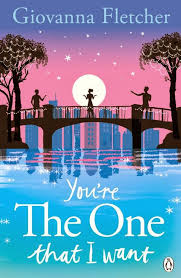 Description: Maddy, dressed in white, stands at the back of the church. At the end of the aisle is Rob – the man she's about to marry. Next to Rob is Ben – best man and the best friend any two people ever had.
And that's the problem.
Because if it wasn't Rob waiting for her at the altar, there's a strong chance it would be Ben. Loyal and sensitive Ben has always kept his feelings to himself, but if he turned round and told Maddy she was making a mistake, would she listen? And would he be right?
Best friends since childhood, Maddy, Ben and Rob thought their bond was unbreakable. But love changes everything. Maddy has a choice to make but will she choose wisely? Her heart, and the hearts of the two best men she knows, depend on it…
Verdict: This book messed with my head…but in a good way! I was constantly changing my mind between 'Team Rob' and 'Team Ben' because of the different perspectives you get the chapters written from Maddy and Ben's points of view. I loved the way the book moved through the different stages of the three characters lives and the challenges they face along the way. I must admit, the end had me sobbing my heart out because I was rooting for the other guy….but it was a grower and once I'd wiped the tears, I realized the overriding message of this book was about friendship rather than 'getting the girl'. I can't wait to read more from Giovanna.
It felt like a kiss by Sarra Manning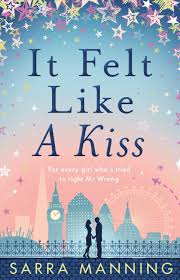 Description: Ellie Cohen is living her dream. A great job at an exclusive Mayfair art gallery, loyal mates, loving family, and really, really good hair. Well, there's the famous rock-star father who refuses to acknowledge her and a succession of 'challenging' boyfriends, but nobody's perfect.
But when a vengeful ex sells Ellie out to the press, she suddenly finds herself fighting to keep her job, her reputation and her sanity. Then David Gold – handsome, charming but ruthlessly ambitious – is sent in to manage the media crisis . . . and Ellie.
David thinks she's a gold-digger and Ellie thinks he's a shark in a Savile Row suit, so it's just as well that falling in love is the last thing on their minds . . .
Verdict: Technically, this isn't a new release as the book came out in January but I decided to include it as watching the Glasto highlights on the TV had me reaching to re-read. Part of the book is set at the festival, which gave it a good summer feel and had me reminiscing about times spent camping in a field in the name of music. The story flicks between Ellie's present day tale and also back to when her parents met and what happened, which is the story that Ellie wants to find out. This book encapsulates many issues surrounding family, friendship, fame and of course, love and how Ellie's 'normal' life is suddenly turned upside down. The tension and passion between Ellie and David builds brilliantly and the complications involved had me desperately turning the pages to find out where they were heading. As with Paige Toon's book, I also enjoyed the reemergence of characters from Sarra's previous books making cameo appearances in Ellie's story and I hope she'll get a mention in the future too.
The best thing that never happened to me by Laura Tait and Jimmy Rice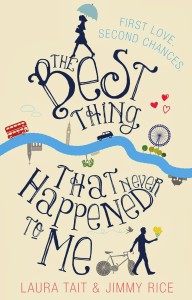 Description: Everyone remembers their first love.
Holly certainly remembers Alex. But she decided ten years ago that love wasn't about mix tapes and seizing the moment – though she's not exactly sure it's about secret dates with your boss, either.
But what if the feelings never really went away?
Alex wants to make every moment of his new job count. It's a fresh start in a big city, and he's almost certain that moving to London has nothing to do with Holly. Almost.
How do you know if it was meant to be. or never meant to happen at all?
Verdict: I read this book after seeing lots of good things about it on Twitter and I enjoyed it so much, I finished it in a day. Before starting the book, I was a bit skeptical about the fact it was written by two authors. In previous books written like this, I have sometimes felt the story has been a little disjointed but in The best thing that never happened to me, this narrative style couldn't have worked better. The story is told from the perspective of Holly and Alex in alternate chapters (written by the author of the same gender) and I thought the characters were well developed and distinctive without the writing style differing too much. There were a few twists and turns along the way that had me gripped and just when I thought I knew what might happen, something else came up. I also really enjoyed the Q and A at the end of the book with the authors about how they put the book together. The whole process fascinates me. The only disappointing thing about this book, is that I finished it so quickly!
Written in the stars by Ali Harris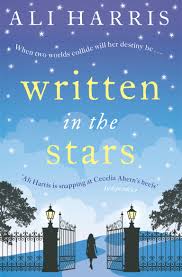 Description: One decision + two different paths = how many happy endings? Have you ever wondered 'What if…?' What if you'd taken that other job, gone on a date with that sweet guy, moved to a different city? Would an alternative life path have led to a happier ending? Now imagine if you could have taken both paths…When Bea Bishop slips while walking down the aisle on her wedding day, she is momentarily knocked unconscious. And in a flash, her world splits and two separate parallel lives take her on two very different journeys. In one, Bea flees back down the aisle and out of the church. In the other, she glides blissfully towards Adam, her intended. Each path will take her on a very different journey. And each will see her life change for better and for worse. But which story will lead to her happy-ever-after?
Verdict: I loved the 'What If' element of this story and there was a lot of quotable, life affirming phrases packed in which I thought really enforced the feeling of destiny about the book. The story was so well constructed and written, I felt every emotion with the characters. In both scenarios, Bea has to contend with whether she has made the right decision over her marriage, her father leaving when she was a child and a secret that has haunted her for years and these complexities are gradually revealed and are incredibly emotionally charged. This story also heavily involves flowers and gardening and although I won't pretend to know anything about those, the descriptions are beautiful. I was intrigued as to how this story would end and which path Bea would choose. I wasn't disappointed.
The Fault in Our stars by John Green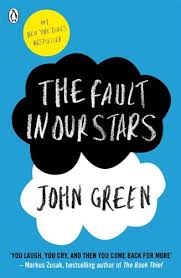 Description: "I fell in love the way you fall asleep: slowly, then all at once."
Despite the tumor-shrinking medical miracle that has bought her a few years, Hazel has never been anything but terminal, her final chapter inscribed upon diagnosis. But when a gorgeous plot twist named Augustus Waters suddenly appears at Cancer Kid Support Group, Hazel's story is about to be completely rewritten.
Verdict: This book has been the talk of the summer and I desperately wanted to read it before seeing the film. I thought the storyline would be quite straightforward but it was not what I was expecting and I was completely drawn in by Green's writing style and Hazel's matter of fact attitude. Augustus was the ultimate charmer and I think I fell in love with him slightly too. Despite the theme of death being constant throughout this novel, there's also a sense of adventure and morality. If you're planning on reading this book, or going to see the film, which I was pleased to see followed the book closely, don't forget to take some tissues!
….and one to look forward to
What a girl wants by Lindsey Kelk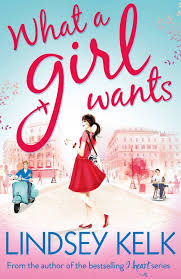 Description: Being arrested in your own bedroom is never a good start to the day. Tess Brookes really needs to sort out her back-stabbing flatmate – and her life.
Should she gamble all on the new photography job she's landed, or snap up the offer from long-time crush and best friend Charlie to start up on their own – in more ways than one? There's just one small thing she hasn't mentioned. Or rather, one tall thing. He's handsome, infuriating and called Nick…
For the first time, Tess has to choose between the life she always dreamed of and a future she never imagined possible. From London to Milan, with high fashion and low behaviour thrown in, she's going to have to make up her mind what a girl really wants…
Preview: I'm counting down the days until Lindsey Kelk's latest offering is released and there aren't many to go now! This is the follow up to last summer's 'About a girl' which had me hooked and laughing out loud, as all Lindsey Kelk's books normally do. This time Tess is our heroine and when life isn't going exactly to plan she decides to do something about it and ends up in Hawaii pretending to be someone she's not. I felt like I'd been transported to Hawaii too to witness the action first hand. Tess' gorgeous love interest Nick is probably my favourite of Kelk's leading men (Sorry Alex!) and there's an interesting love triangle that is a serious case of Sod's Law. I'm so excited to see what these characters get up to next in What A Girl Wants…..
Verdict: Another brilliant read from Lindsey Kelk. Following on from About a Girl, I loved the chemistry between the two main characters and Milan was a great setting. As with all of Kelk's heroine's, Tess doesn't do things by halves so expect lots of drama and comedy situations that will have you giggling out loud (I got some strange looks when reading in public.) I have to admit when I got to the final page, I was frustrated with the ending…but I soon got over that disappointment and started thinking up what could happen in a sequel! Fingers Crossed!